So, you're hungry, but you're also lazy. The thought of leaving your comfortable dwelling sends shivers down your spine — especially when you're hungover — and all you want is food in your mouth asap … Never fear! I'll tell you how to order food in English in Seoul with these essential food delivery apps for foreigners.
Read More on Food
Do I need to tip in Korea?
When it comes to food delivery in South Korea, you'll be glad to know that it is not necessary to tip delivery drivers or really, anywhere. Coming from the US where standard tips are anywhere from 15-30%, it can be a huge relief.
Does Uber Eats work in Korea?
No. As of October 2019, Uber Eats left the Korean market — probably due to all the competition. That was incredibly frustrating for me as it was an easy, English food delivery app, but there are other options that I will continually update as the year goes on.
Coupang Eats
In my opinion, this is the hands-down best food delivery app for foreigners in Seoul.
Once Uber Eats left the picture, I luckily discovered that Coupang Eats — brought to you by mega-store, Coupang — had its own English app. Though some of the restaurant menus aren't always translated into English, there are usually corresponding pictures.
TIP
: If you can't find the English version of Coupang Eats app in the App Store on your Iphone, try changing your App Store location to the US. You can read how to do that
here
.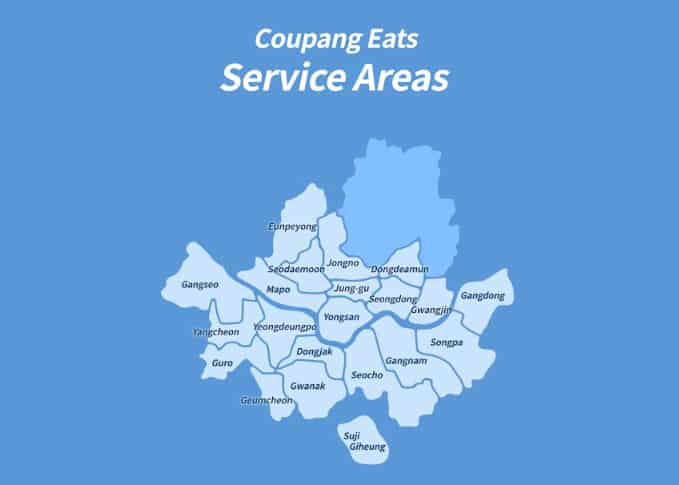 And if all else fails, a good trick is to screenshot the menu with your phone and use the Google Translate App or Papago to scan and translate the text on the photo. However, if you run into any issues like inputting the wrong address, you may not get as much English phone support as you would with Shuttle.
I find most restaurants that were on Uber Eats is also on Coupang Eats, and it's often free delivery for orders over 12,000 won. Also, since both my home and office is located in Gangnam, there's a broader selection than what I see on Shuttle.
Switching Coupang Eats to English
If you need to switch Coupang Eats to the English language or Korean setting on the iPhone, you can go to Settings > Coupang Eats and you'll see the Preferred Language. This will change the Coupang Eats app language to either English or Korean. You can also try downloading the App from the US app store. You can read how to change app store locations here.
TIP
: If you're looking for the English version of the Coupang app (not Coupang Eats) … Unfortunately as of November 2020, the online shopping marketplace,
Coupang.com
, and its corresponding app have no official English support, but the feature may be coming soon. Until then, you can use
Google Translate plugin
on your
Chrome browser
to navigate the website in English.
Shuttle
Shuttle has been an expat's savior. With an app that's fully in English, including menu, and great phone support, you'll never go hungry. With that said, the restaurants are limited (especially south of the Han River), and the delivery fees are usually higher. Shuttle also accepts PayPal, all major credit cards, and Korean credit cards! You can read their FAQ here.
Yogiyo
If the other apps somehow don't work out … There's Yogiyo! Sorry, there is no English version of the app. The Yogiyo app is fully in Korean, but it is one of the most popular food delivery apps in Korea. This guide at Korvia will help you order food on Yogiyo like a pro.
TIP
: Use
Papago
or
Google Translate
to help navigate Korean websites. Both phone apps also have cameras where you can translate directly from images (like screenshots).
Baemin (Baedal Minjok)
Like Yogiyo, there is no English version (yet) of the app, Baemin.
Fast Food Restaurants
McDonald's
I didn't know this until recently because I don't usually frequent those famous golden arches, but you can order McDonald's online in English.
You'll find interesting fast food items in Korea such as corn soup, corn pie, bulgogi burgers, and shrimp burgers. Koreans sure love corn. #onlyinkorea
Pizza Hut
And if you're craving a Bacon Potato Pizza or Shrimp Pizza, Pizza Hut Korea also has an English menu.
KFC
KFC has a menu available online in Korean, but you'll have to use Google Translate to navigate the website and place an order.
Only in Korea will you find the Chizza monstrosity (chicken + pizza, okay?), gravy cups, and tteokbokki side dish on the KFC menu. I don't know if I want to be seen in public with that Frankenstein-ish Chizza, so perhaps it is best to order in. #YOLO
Phone Delivery
Good ol' fashioned phone delivery if you know exactly where you're ordering from, can speak at least a little Korean, and if you're feeling particularly adventurous.
Here's a video from YouTube channel, Simon and Martina, showing how to order food directly from restaurants in Korea via phone order.
Ordering Groceries in Seoul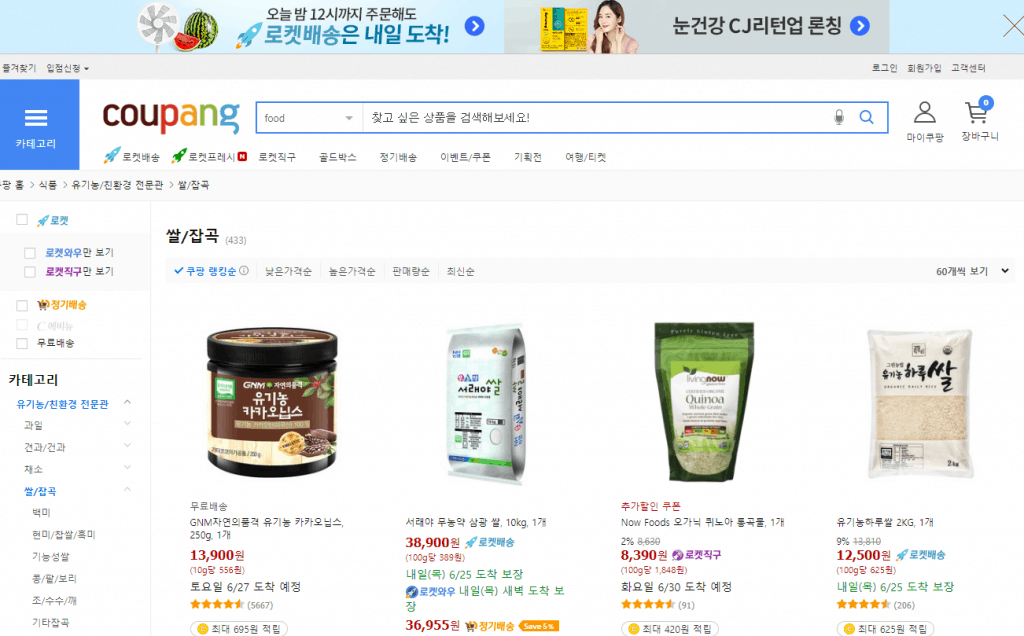 Coupang is a Korean e-commerce marketplace modeled after Amazon.com. You can purchase everything under the sun from electronics to clothing. Shipping is very fast with their Rocket shipping — usually within 1-2 days.
You can also purchase groceries through Coupang.com and it will be delivered to your doorstep. Some food items will sell out daily but will be restocked the next day.
In order to use the website in English, I recommend using Google Translate plugin on the Chrome browser. Make sure to have your address ready in Korean.
As of November 2020, there's no official English language support, but the feature is listed as "coming soon" on the app store.
Premium Korean online-only grocery store in South Korea. You can purchase many different kinds of international and specialty foods, including gluten-free foods.
Owned by Ebay, you can easily switch from Korean to English. You can also easily pay with a foreign (e.g. US) credit card or bank transfer. Gmarket was the first Korean online shopping site I used upon arrival and the learning curve was easy. The prices are usually better if you switch to the Korean-only site though. I still prefer Coupang, but G-Market is the easiest Korean website to use with a foreign credit card.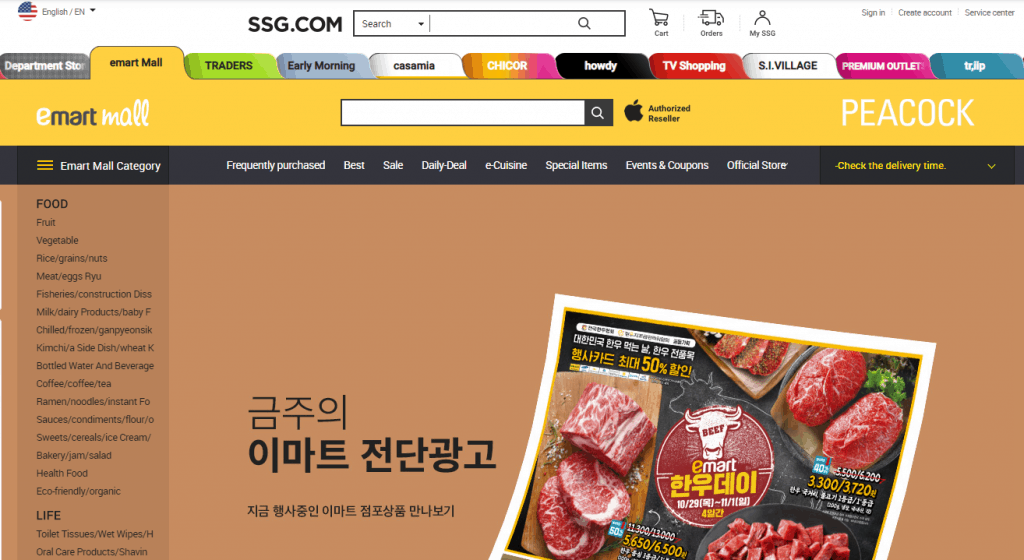 On SSG.com, you can find pretty much anything under the sun from shopping for groceries to be delivered to your home from E-Mart or Traders to shopping for the latest K-Beauty at cosmetic mega-store, Chicor.
You can schedule grocery delivery between certain hours to your doorstep. Since the nearest E-mart to me is a bit lackluster in their selection, I often purchase some of my favorite No Brand food items online instead of trekking to the supermarket.